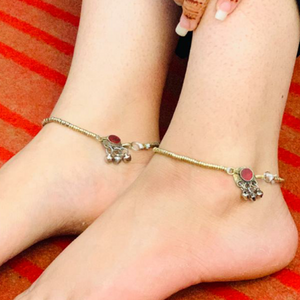 Original Afghani Anklets
4.0
Ratings.
The Tribal Swag
Assured Quality
.
Regular price ₹249.00 ₹189.00 Sale
WhatsApp
This is a lovely and hefty vintage-style Golden color anklet or rigid foot bracelet. It is carefully made of high grade original Afghani anklets and decorated with chasing and applique work. Looks very heavy but very lightweight. 
Feedback shared by a few of our many happy customers.
This Fashions single line choker hasli leg's Anklets is just what you need to add to your collection of grand jewelry. The silver leg choker set is truly a must-have piece in your collection.

Banjara tribal women used to wear this ethnic Afghani anklet very gracefully in various sides and different designs. This is loved by women of this age too and they are pairing this with office wear, party wear, and even casual wear.
This is the perfect gift for her who loves silver jewelry in unique or antique designs and wants to stand out in the crowd on any occasion.
Note: The red color on the anklet charm may vary to blue or black or navy blue or green. These are antique Afghanistan anklets.