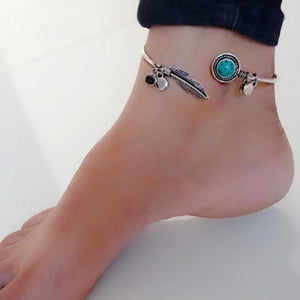 Leaf Adjustable Ankle Kada
4.7
Ratings.
The Tribal Swag
Assured Quality
.
Regular price ₹949.00 Sale
WhatsApp
Normal Size but Adjustable Kada. 
This is a lovely and hefty vintage style silver colour anklet or rigid foot bracelet, an example of tribal Indian jewelry from Rajasthan. It is carefully made of high grade brass and decorated with chasing and applique work. Looks heavy but very light weight.
Adjustable Kada Anklet. Round Shaped with tribal design. Suitable to wear during festival season. Trendy and Chic Jewelry. Provides and antique look. Bright silver finishing with an antique colour touch. 
This Fashions single line choker hasli leg's Anklets is just what you need to add to your collection of grand jewelry. Silver leg choker set is truly a must-have piece in your collection.
Detailed work enhances the beauty of the Leg choker. The choker ankle bracelet is of superior quality and gives you a perfect look for different occasions. Its elegance and style will add radiance to your natural beauty.
This is a beautiful Indian banjara tribal's piece of jewelry called leg hansli | hansdi Ankle Bracelet | Anklet hansuli | leg ring, etc.
Banjara tribal women used to wear this ethnic silver hasli choker anklet very gracefully in various side and different designs. This is loved by women of this age too and they are pairing this with office wear, party wear and even casual wear.
This is perfect gift for her who loves silver jewelry in unique or antique designs and want to stand out in the crowd in any occasion. There will be some changes in design if the same design not available but quality will remain excellent. 
Note: No return or exchange because of size issue.